O Lord! We dedicate to You, with utmost reverence and humility,
what is actually Yours.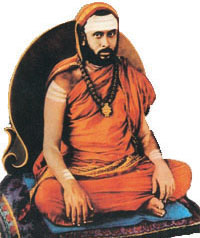 [1912 - 1954]
Welcome to the website dedicated to His Holiness Jagadguru Sri Chandrasekhara Bharathi Mahaswamigal, a world-renowned Jivanmukta, who adorned the Dhakshinamnaya Sringeri Sharada Peetham as its 34th pontiff. Each and everyone who had the fortune of His darshan unanimously agree as to His extreme detachment, mastery over senses, concern for the devotees and knowledge of the Sastras. Many came to Him with problems of various kinds and, on several occasions, He used to provide answers even before the problem was stated. His compassionate look was sufficient to transform a confirmed atheist to a sincere spiritual seeker. His greatness was summed up by His disciple and successor to the Peetham, Sri Abhinava Vidyatheertha Mahaswamigal in the following verse:

(I prostrate before the greatest Guru, who is a kalpavruksha (wish-fulfilling tree) to those who bow, who is worthy of being saluted by pre-eminent knowers of the Truth, who is the fresh sprout of bliss and who is the ocean of the sastras (or, in other words, is fully conversant with the sastras).